2015 Riverwood Farms

9970 Wisner Road
Kirtland, Ohio 44094
440-749-1141

Gorman's Riverwood Farms

Quality experiences for horse & rider
Join a friendly, caring community at Riverwood Farms!
Riverwood Far
ms
is located in a tranquil setting surrounded by the Holden Arboretum.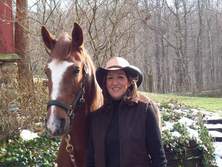 Owner Nancy Gorman has over 40 years of experience working with horses.

Nancy develops a unique relationship with each horse and human she works with in order to customize care and training.