Nancy has dedicated herself to making Riverwood a safe haven for horse and rider. She develops a unique relationship with each horse and human she works with in order to customize care and training.
2015 Riverwood Farms

9970 Wisner Road
Kirtland, Ohio 44094
440-749-1141

Gorman's Riverwood Farms

Quality experiences for horse & rider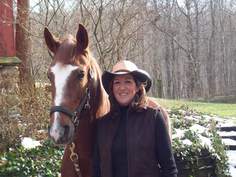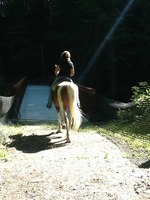 Nancy Gorman

, a self-made entrepreneur, has been working with horses for almost 50 years. While in elementary school, she cleaned chicken coops to earn the privilege of riding ponies at a neighbor's farm.

With an eye for detail, Nancy watched the best riders and trainers in the area, adapting their techniques to her own style. She took advantage of every chance available to learn how to communicate effectively with the horses she cared for while working in the restaurant business to support her horse habit.

In 2000 Nancy moved her horses to Riverwood Farms and it is there that she had the opportunity to turn her passion for horses into a career. She quickly took over as farm manager and then arranged to buy the business when the land was sold to the Holden Arboretum. It has been a match made in heaven!